Camps
The New York Red Bulls are the official camp partner of the Long Island Junior Soccer League, offering soccer skills camps and community-based camps across Long Island throughout the year. There are several types of offerings available (though some may fall outside the LIJSL-Red Bulls partnership).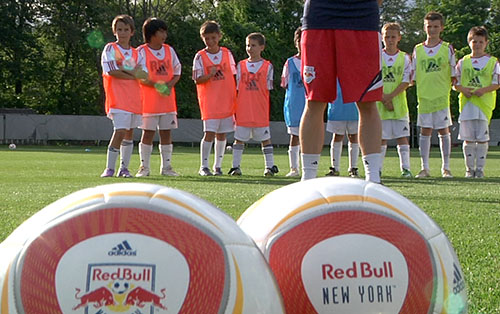 Residential Camp – A Residential camp offers a unique experience where players reside on site and spend close to 8 hours a day on the field working on technical and tactical topics, along with free play tournaments. There are many off the field non-soccer activities available at our residential locations as well. In addition to the overnight camper option, an extended day camper option is available on NON-RDS Residential Camps.
RDS Camps – Regional Development School (RDS) camps are for players aged 8-14 with a strong background in travel soccer. RDS offers both day and Residential camps, with acceptance to the Residential Camps subject to tryouts.
Team Camp – Team Camps are specifically designed for travel team players that wish to register their whole team for a week of team training.
Skills Camp – Skills Camps are open for individual player registration and are our most popular soccer camp program for players aged between 7 and 14. The camps focus on the introduction and mastery of ball skill in a fun learning environment.
Mini KICK Camp– Our Mini KICK camps are geared towards 5 to 6 year old players with the activities based on fun, physical literacy and an introduction to ball awareness.
Camp Benefits
There are many great benefits to attending any one of the New York Red Bulls camps.
Expert coaching
Fun and Challenging Activities
Skills Challenges
New York Red Bulls Adidas Soccer Ball
New York Red Bulls Adidas T-Shirt
Personalized Skills Challenge Score Card
A companion ticket to a New York Red Bulls Home game at Red Bull Arena, through our exclusive Match Day Experience program.
Find a Camp and Register
All camp registrations are taken through our online registration system. To access our registration page and find a camp in your area please click here.
Clinics
The New York Red Bulls Training Programs cover a wide range of fundamental skills including Ball Mastery, Goal Scoring, Creative Play, Team Training, and RDS Training. Each program is designed based on the Red Bulls 'Building Blocks of Development'; a key belief of this process is that individual mastery of the ball is an important component for all young players.
Each training location also serves as a stepping stone to the illustrious Regional Development School. The RDS is accessible via try out only, and acts as the feeder system to Red Bulls Academy teams. Players that excel during a Training Clinic will be invited to try-out for the RDS program the following season.
Spring Training Clinics
The New York Red Bulls Spring Training Clincs are a way for players to receive extra individualized training while in season. As a player attends regular training sessions with their team working on team based themes, he or she has the opportunity to continue to work on their individual development through our specialized Spring Training Clinics.
Winter Indoor Training Clinics
The Red Bulls Youth Training Programs provides players with year round training support. Winter season clinics provide a great opportunity for players to improve their individual technical ball skills. From beginner to advance sessions, a menu of training clinics are offered at many indoor locations throughout New York and New Jersey. Between December and March, training sessions are scheduled over two six week seasons.
To view a list of all training locations and programs offered, click here.
For more information on any of the Red Bulls camp or clinic programs call: 1-888-370-7287 or e-mail the Red Bulls at training@newyorkredbulls.com
Spring & Summer programs are accepting players NOW! To Register for any of the LIJSL-Red Bulls Camps & Clinics click here.